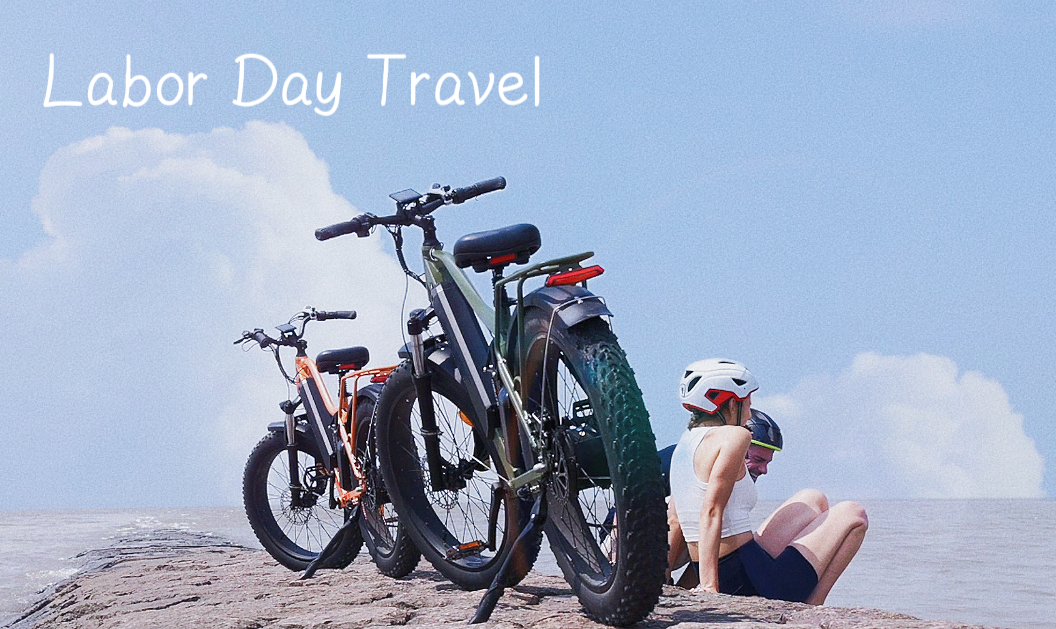 As the Labor Day approaches, BeeCool Bikes has introduced a range of exciting promotions from September 1st to 10th. These promotions are designed to encourage people to enjoy outdoor cycling and promote eco-friendly travel. Here we will introduce these fantastic promotional policies, recommend some beautiful cycling destinations for Labor Day, and suggest suitable BeeCool Bikes ebike models for you.

BeeCool Bikes Promotional Policies
1. Bike Purchase Lottery

From September 1st to 10th, when you purchase any BeeCool Bikes ebike, you have the chance to enter a lottery to win a free black Bee Pathfinder Step-Thru ebike. This modern ebike will be your reliable companion for green commuting, saving you energy costs and offering unlimited adventure possibilities.

2. Free Battery with Bike Purchase

BeeCool Bikes is also offering a special deal: when you purchase any ebike, you'll receive an extra battery for free. This means you can enjoy longer rides and extended range without worrying about running out of power. With the battery bag from BeeCool, you can easily carry your free extra battery.

3. Free Trailer with Bike Purchase

If you're planning long-distance bike tours or need to carry substantial luggage, don't miss out on this special offer. When you buy a BeeCool Bikes ebike, you'll receive a portable trailer for free, making it easy to transport your belongings and gear, allowing you to explore further. The trailer and the extra battery are both included in your order!

4. Special Financing Plans

BeeCool Bikes also offers flexible financing plans to make it easier for you to own your ebike. You can choose installment payments to help you realize your eco-friendly travel dreams.

Now, let's explore some ideal cycling destinations for riding ebikes during Labor Day and recommend BeeCool Bikes ebike models that are suitable for you.

Ideal Cycling Destinations for Labor Day in the USA
1. Statue of Liberty National Monument - New York City

Labor Day is a celebration of workers, and the Statue of Liberty represents freedom and the American spirit of labor. In New York City, you can ride your BeeCool Bikes ebike to the Statue of Liberty National Monument and admire this iconic landmark. Choose the Bee Pathfinder Step-Thru ebike for its comfort and convenience, making it easy to navigate through the city and enjoy the magnificent views of the Statue of Liberty.

2. Grand Teton National Park - Wyoming

If you're looking for more outdoor adventures, Grand Teton National Park is an excellent choice. It offers stunning mountains, canyons, and lakes, making it a paradise for cyclists. The Bee Adventurer ebike is a powerful option equipped with a high-performance battery and advanced full suspension, allowing you to conquer this magnificent natural destination with ease.

3. California Coastline - San Francisco to Los Angeles

The California coastline route is known for its breathtaking beaches, charming scenery, and beautiful towns. During Labor Day, you can embark on a cycling journey along the California coastline. The Bee Rambler/Bee Challenger ebike, with its robust build and outstanding performance, is an ideal choice for long-distance cycling. You can also bring along a trailer for equipment and enjoy an unforgettable bike camping trip.

4. Grand Teton Valley - Wyoming

The Grand Teton Valley is a place filled with natural beauty and wildlife. Here, you can enjoy spectacular mountain ranges and serene lakes. The Bee Explorer ebike's off-road capabilities and comfort make it an excellent choice for exploring the Grand Teton Valley. Bring along an extra battery to ensure you don't miss any of the scenery.

5. Grand Canyon National Park - Arizona

The Grand Canyon National Park is a breathtaking wonder of nature and considered one of the natural wonders of the world. During Labor Day, choose the Bee Pathfinder ebike for its stability and performance, allowing you to safely appreciate the majestic views of the Grand Canyon. This unique natural wonder is definitely worth a visit.



Labor Day is an excellent opportunity to celebrate workers and engage in outdoor activities. BeeCool Bikes' promotional policies provide a fantastic opportunity for you to ride an ebike while contributing to eco-friendly travel and adventure. No matter which BeeCool Bikes ebike you choose, it will be your ideal companion for exploring the magnificent destinations across the United States. Seize this special holiday, get active outdoors, ride your ebike, and experience the beauty and freedom of nature!