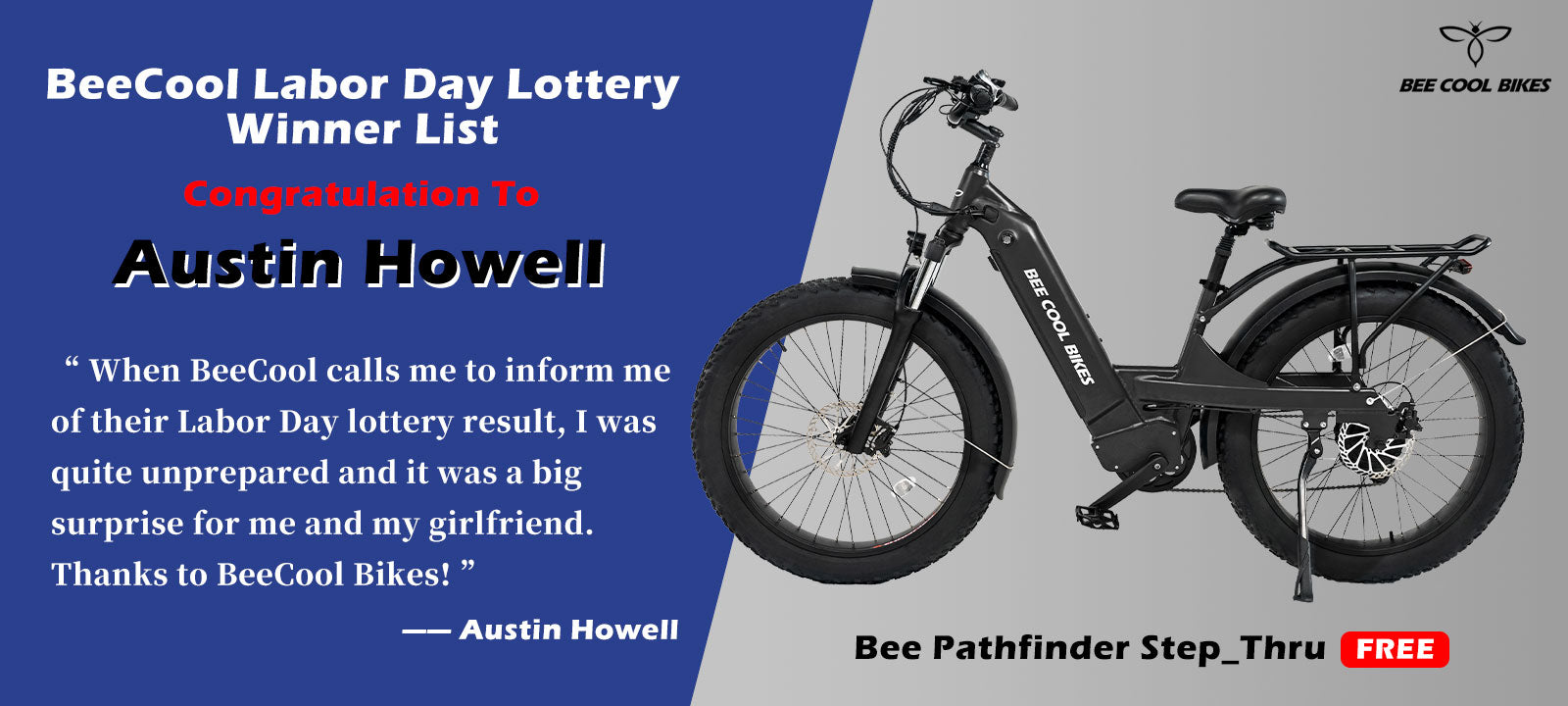 Austin Howell's Journey of Luck
In this world full of surprises, everyone hopes for a stroke of luck to shine upon them. For Austin Howell, an automotive salesperson from California, this dream became a reality. Every week, he and his girlfriend eagerly hit the road to explore the great outdoors, with camping being an integral part of their lives. However, Austin understood the importance of having a reliable companion for their camping adventures, which is why he did extensive research and decided to purchase an electric bike (ebike).
With a limited budget, Austin originally planned to buy just one ebike, but when he heard that BeeCool Bikes was hosting a Labor Day lottery event, he seized the opportunity and purchased a BeeCool Bee Pathfinder ebike. Filled with hope, he knew that the lottery might grant him a chance to win a free black Bee Pathfinder Step-Thru ebike, perfectly suited for his and his girlfriend's camping escapades.
The Winner's Testimonial
Austin's story is not only inspiring but also filled with happiness. When BeeCool Bikes' customer service informed him that he had won a free black Bee Pathfinder Step-Thru ebike, his excitement was beyond belief. Now, both he and his girlfriend owned BeeCool ebikes, which meant they could enjoy riding together during their camping trips, creating even more beautiful memories. Austin expressed his gratitude to BeeCool and hoped that his stroke of luck would continue, allowing more people to experience the same joy.
BeeCool Bikes' Offer and Giveback
BeeCool Bikes has always appreciated the support of its customers and fans. It's their unwavering support that led to the immense success of the Labor Day lottery event. In response to this support, BeeCool Bikes has decided to continue spreading the good fortune and open the door to luck for more people. Moreover, BeeCool offers free battery and cargo trailer as well for purchasing BeeCool model now. These are all ways for us to show our attitude to the passion of all our Bee Riders!
In answer to Austin's call, BeeCool Bikes has decided to draw one lucky customer every month, gifting them a specially selected BeeCool ebike. This fantastic news means that as long as you place an order to purchase any BeeCool bike right now, you have the chance to win a free BeeCool ebike. While Labor Day has passed, the lucky winner for September is yet to be chosen, and you could be the next fortunate recipient of a BeeCool ebike.
Seize the Opportunity and Embark on a Journey of Luck
The opportunity is right before you, requiring just one simple step. You could become the lucky winner for September, receiving a green Bee Adventurer ebike, or we can refund the ebike of equivalent value in your order (non-repetition of winners). The winner's name and info will be released at the beginning of next month. Whether you're an urban explorer or a nature enthusiast, BeeCool Bikes has the perfect ebike for you. This chance only requires one order, and you can kickstart your journey of luck.
BeeCool Bikes' Commitment
BeeCool Bikes has always been committed to manufacturing high-quality, eco-friendly electric bikes to meet customers' needs. They not only provide exceptional products but also give back to their dedicated fans and customers through these lottery events. Their determination is to ensure that more people can enjoy the convenience and joy that electric bikes bring.
Austin Howell's story of luck is not just heartwarming but also filled with hope. Now, you too have the opportunity to become the next lucky winner and receive a free BeeCool ebike, making your life more vibrant and exciting. Don't miss out on this chance; purchase your favorite BeeCool ebike and claim your moment of luck! BeeCool Bikes is eagerly waiting for your participation as we embark on an adventure of boundless possibilities with electric bikes. No matter where you are, luck may shine upon you, so take action and become the next BeeCool lucky winner!