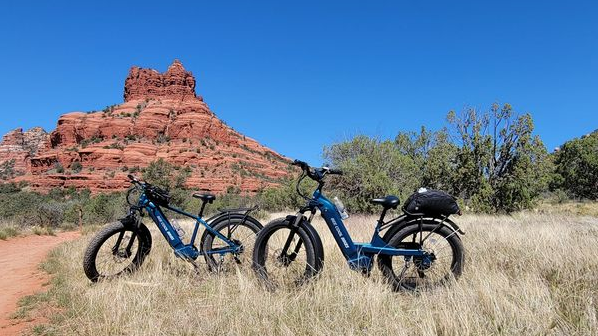 Biking is one of the best ways to explore the diverse and beautiful landscapes of the United States. Whether you are looking for a leisurely ride along a scenic coastline, a challenging climb up a mountain pass, or a thrilling descent through a forest, there is a bike trail for you.

But with millions of miles of bike paths in the country, how do you choose where to go? In this blog post, we will introduce you to some of the best bike trails in the US, covering different regions, terrains, and difficulty levels. We will also give you some tips on how to prepare for your bike adventure and what to expect along the way.

1. What are Bike Trails?

Bike trails are routes that are designed or designated for cycling. They can be paved or unpaved, flat or hilly, urban or rural. Some bike trails follow former railroad tracks, while others carve through natural areas. Some bike trails are part of larger networks that connect different cities or states, while others are standalone loops or out-and-backs.

Bike trails can vary in length, from a few miles to hundreds of miles. They can also vary in difficulty, from easy to expert. Depending on your skill level and preference, you can choose a bike trail that suits your needs and goals.

2. Why Bike Trails?

Biking on trails has many benefits for both your physical and mental health. Biking is a low-impact exercise that can improve your cardiovascular fitness, strengthen your muscles and bones, burn calories, and reduce stress. Biking on trails can also expose you to fresh air, natural scenery, wildlife, and cultural attractions.

Biking on trails can be a fun and rewarding way to travel and explore new places. You can cover more ground than walking or hiking while still enjoying the details and nuances of each location. You can also experience different terrains and climates along the way. E-bike is highly recommended for biking, especially a step-thru e-bike that is easy to ride and reliable. BeeCool offers spring series step-thru e-bike, Bee Pathfinder step-thru and it is perfect for your spring trail biking!

Biking on trails can also be a social activity that allows you to meet new people or bond with your friends and family. You can join organized group rides or plan your own itinerary with your companions. You can also interact with locals and other cyclists along the way.

3. How to Choose Bike Trails?

Choosing bike trails depends on several factors such as:

- Your skill level: Are you a beginner who needs an easy and flat trail? Or are you an expert who seeks a challenging and technical trail?
- Your interest: What kind of scenery do you want to see? Do you prefer coastal views or mountain vistas? Do you want to visit historical sites or natural wonders?
- Your time: How long do you have for your bike trip? Do you want to do a day trip or an overnight trip? Do you want to do a loop or an out-and-back?
- Your budget: How much money do you want to spend on your bike trip? Do you need to rent bikes or gear? Do you need accommodation or food along the way?

To help you narrow down your options, here are some examples of bike trails in different regions of the US:

Paved Path Trails
Paved path trails are ideal for cyclists who want a smooth and comfortable ride. They are usually suitable for all skill levels and often accessible by public transportation. They also tend to offer more amenities and attractions along the way.
Here are some of the best paved path trails in the United States:

- **The Presidio** | San Francisco, CA: This 24-mile network of bike paths takes you through one of the most historic and scenic areas of San Francisco. You can enjoy views of the Golden Gate Bridge, Alcatraz Island, Crissy Field, and more. You can also visit museums, forts, gardens, and monuments within The Presidio National Park.

- **Rio Grande Trail** | Aspen to Glenwood Springs, CO: This 42-mile trail follows an old railroad corridor along the Roaring Fork River. You can admire stunning views of snow-capped mountains, forests, meadows, and wildlife. You can also stop by charming towns like Basalt and Carbondale for food and shopping.

- **Ke Ala Hele Makālae** | East Coast of Kauai: This 8-mile trail (which means "the path that goes by bicycle" in Hawaiian) offers a tropical paradise for cyclists. You can ride along the coast with views of turquoise water, white sand beaches, palm trees, and cliffs. You can also explore cultural sites like ancient heiaus (temples), fishponds, and villages.

Off-Road Trails
Off-road trails are designed for off-road cycling. They offer a variety of surfaces such as dirt, gravel, and mud. They also challenge cyclists with obstacles such as rocks, roots, and jumps.They are usually best suited for intermediate to advanced riders who have mountain bikes and protective gear.
Here are some of the best off-road trails in the United States:

- **Hiline Trail** | Sedona, AZ: This 3.1-mile trail runs along the edge of the red rocks, giving technical riders plenty of chances to ogle at incredible buttes and monoliths. Be prepared for slickrock portions and some sharply descending chutes before capping the ride at Baldwin Loop.

- **Trail 401** | Crested Butte, CO: This 13.6-mile route starts with a lung-burning, five-mile climb up to Schofield Pass. But once you reach the high point (at a whopping 11, 351 feet), the singletrack opens up, revealing killer 360-degree views of the rugged Elk Mountains. The fast alpine descent through fields of wildflowers will have cyclists feeling serious Sound of Music vibes.

- **Shark Valley Trail** | Miami, FL: This 15-mile loop trail takes you through the heart of Everglades National Park. You can see alligators, turtles, herons, and other wildlife up close as you pedal along a flat limestone road surrounded by sawgrass marshes. You can also climb up a 65-foot observation tower for panoramic views of this unique ecosystem.
4. Tips for Planning Your Trip

Before you head out to explore these amazing bike trails, here are some tips to help you plan your trip:

- Check out Adventure Cycling Association's website for detailed maps and information on U.S. Bicycle Routes across the country. These routes connect urban and rural communities via signed roads and trails. You can download free digital maps or order printed ones from their online store.
- Do some research on your chosen trail before you go. Find out its length!

Now you may plan a biking for yourself in mind and if you choose an e-bike for your next biking, you will find it very helpful! BeeCool spring multi-color series will definitely be your first choice!