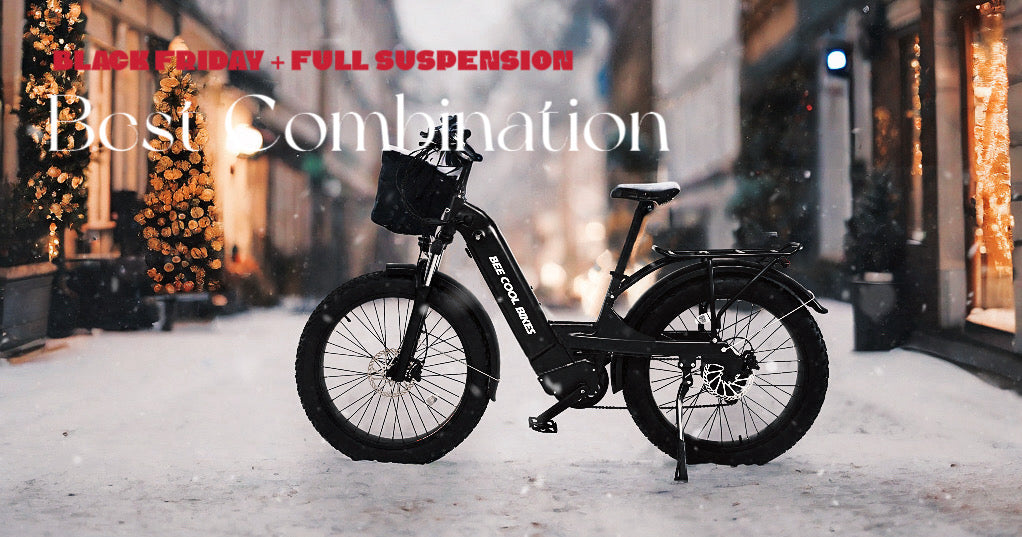 As the Black Friday buzz surrounds us,
BeeCool Bikes
offers an exceptional array of full suspension electric bikes designed to transform your riding experience. Each model boasts a unique dual-suspension structure, ensuring unrivaled comfort, control, and performance.
Bee Adventurer and Bee Explorer: Perfecting Adventure
Among our stellar lineup, the
Bee Adventurer
and
Bee Explorer
models stand out, equipped with front fork suspension and a rear 4-link suspension. Whether traversing rugged terrains or cruising urban landscapes, these bikes promise a smooth, responsive ride, ensuring you conquer every path with ease.
Bee Pathfinder Series: Innovation in Comfort
Distinguished by front fork suspension and a rear seat post suspension, the
Bee Pathfinder Series
exemplifies a blend of innovation and comfort. These bikes cater to riders seeking a balanced combination of support and luxury during their journeys.
Bee Challenger: Unmatched Stability and Adaptability
Unleashing unmatched stability, the
Bee Challenger
comes equipped with front dual shoulder suspension and rear dual air suspension. This model ensures adaptability to diverse terrains, granting riders a confident and versatile riding experience.
The Exclusive Bee Rambler Experience
Unfortunately, due to overwhelming demand during our Black Friday promotion, the Bee Rambler, featuring front dual shoulder suspension and rear coil spring suspension, is now sold out. We appreciate the incredible response and enthusiasm for this exceptional model.
Act Now! Limited Stock Available
While the Bee Rambler has flown off the shelves, our other remarkable models still await their riders. As the Black Friday promotion continues, our Bee Adventurer, Bee Explorer, Bee Pathfinder Series, and Bee Challenger are in stock and ready for exhilarating rides.
Embrace the Power of Full Suspension E-Bikes
Our range of full suspension e-bikes at BeeCool Bikes is engineered not only for thrilling rides but also to align with your desires for comfort and control. With Black Friday in full swing, now is the perfect time to invest in an electrifying journey.
Why Choose BeeCool Bikes' Full Suspension Range?
Unparalleled Comfort:
Tailored dual-suspension systems to absorb shocks and bumps, ensuring a smooth ride on any terrain.
Ultimate Control:
Precision-engineered suspension for enhanced handling and stability.
Versatility:
Models designed for various riding experiences, from urban streets to challenging trails.
Black Friday Deals:
Unmissable promotions offering top-notch e-bikes at incredible prices.
With BeeCool Bikes, your journey becomes an adventure, merging cutting-edge technology with a commitment to quality and performance. Take advantage of the Black Friday promotion and experience the world of full suspension e-bikes like never before!
Unlock your potential and explore the world with BeeCool Bikes' Full Suspension range. Secure your model today and redefine your riding experience.