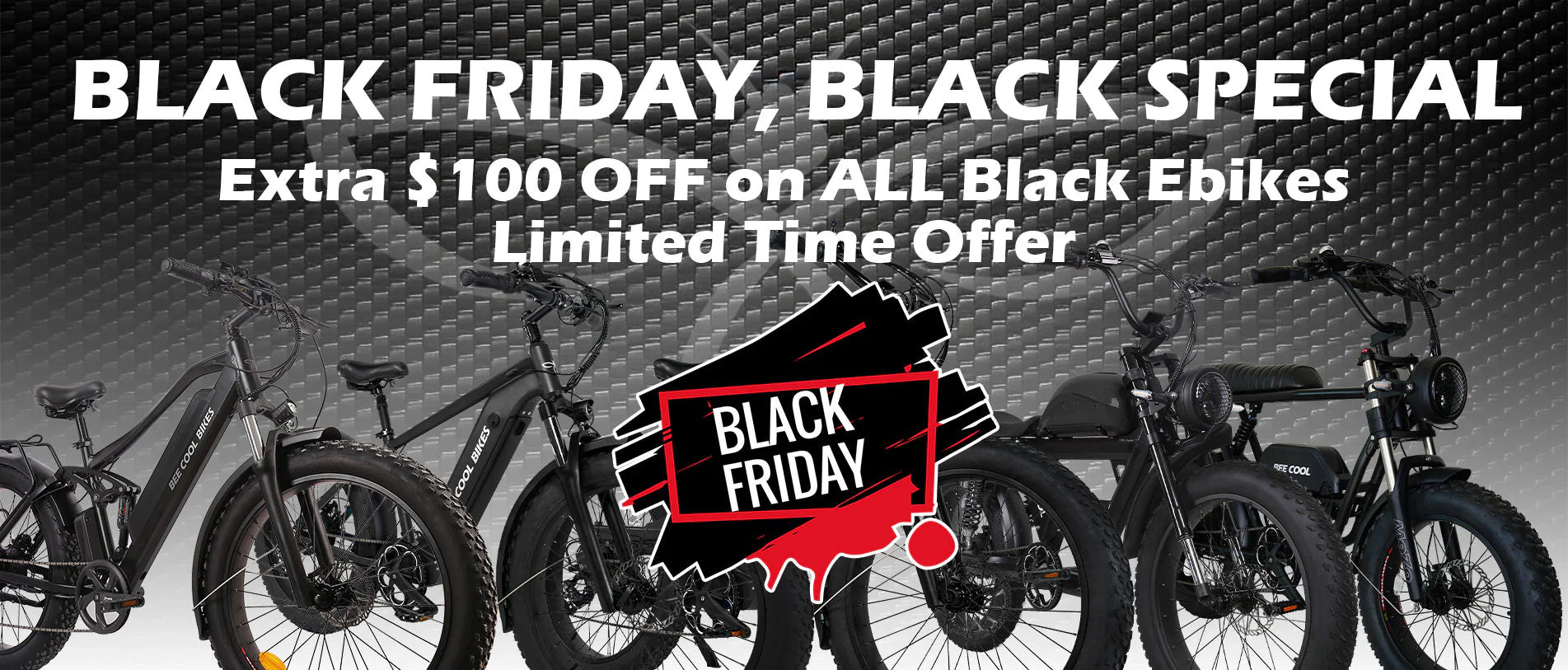 Black Friday, the most anticipated shopping event of the year, is just around the corner, and
BeeCool Bikes
is ready to take it to a whole new level. Are you ready for incredible savings, fantastic gifts, and double discounts on the coolest electric bikes in town? Look no further, because BeeCool Bikes has you covered. In this blog, we'll take you on an exhilarating ride through the unmissable Black Friday promotion offered by BeeCool Bikes.
Unveiling the Black Friday Bonanza:
BeeCool Bikes is making a grand entrance into this Black Friday with a spectacular promotion that's set to leave bike enthusiasts and deal hunters electrified. From unbeatable discounts to free gifts, there's something for everyone in this extravaganza.
1. Discounts on All Models:
During this special event, every single model in BeeCool Bikes' range comes with an irresistible discount. Whether you're in the market for a sleek commuter bike, a rugged mountain eBike, or an urban cruiser, you'll find the perfect match at a price that won't break the bank.
For example, you can get a full suspension fat tire mountain ebike with double hydraulic brakes, 750W powerful motor (peaking to 1100W), 48v 21Ah large battery, four-bar linkage rear suspension and other cool features at a price of $1399.
2. Accessorize for Less:
It's not just the bikes that are on sale; BeeCool Bikes is also offering up to 20% off on nearly all of their accessories. Customize your ride and enhance your biking experience with discounted accessories, from safety gear to stylish add-ons.
3. Double Down with 2 eBikes:
Ready to bring a friend or family member along on your eBike adventures? Purchase any two BeeCool eBikes and unlock an additional $100 off by using the promo code "2EBIKE." It's the perfect opportunity to gift someone special or find your biking buddy.
4. Black is the New Black:
For those who love the sleek and timeless elegance of black, BeeCool Bikes is taking it up a notch. All black eBike models enjoy an exclusive extra $100 discount during the Black Friday event. So, not only do you get the same benefits as other colors, but you also pocket extra savings on your favorite black eBike.
Double Up on Savings:
This Black Friday, BeeCool Bikes isn't just offering run-of-the-mill deals. They're inviting you to double up on savings by combining discounts. If you buy two BeeCool eBikes, you can use the
"2EBIKE"
promo code and enjoy $50 off each bike. That's a total of $100 in savings, on top of any other applicable discounts.
Get the Best of Both Worlds:
Now, imagine the possibilities. You and your biking partner can each grab a black BeeCool eBike, apply the "2EBIKE" code, and not only receive your extra $100 discount but also double down on the extra $100 Black Friday discount for each black eBike. That's a total of $150 more in savings on each ebike than that you can save on a black BeeCool ebike at other time and you can still get free extra battery and trailer as well. You can never find any other deal better than this anywhere except here from BeeCool Bikes.
Gifts Galore:
In addition to these incredible discounts, BeeCool Bikes is adding an extra layer of excitement by offering free gifts with your purchase. From ebike cargo trailer to extra battery and other accessories, you'll leave with more than just an amazing eBike – you'll have all the gear you need for a safe and enjoyable ride.
This Black Friday, BeeCool Bikes is your one-stop shop for unbeatable deals, stylish eBikes, and double discounts that will make your jaw drop. Whether you're a solo rider or looking for a pair of eBikes for yourself and a friend, BeeCool Bikes has something special for everyone.
Don't miss out on this electrifying Black Friday promotion – head to
the BeeCool Bikes store
and make your dreams of owning a high-quality eBike a reality. With double discounts and free gifts, there's no better time to join
the BeeCool Bikes community
and experience the future of cycling. Ride into the future with BeeCool Bikes this Black Friday!