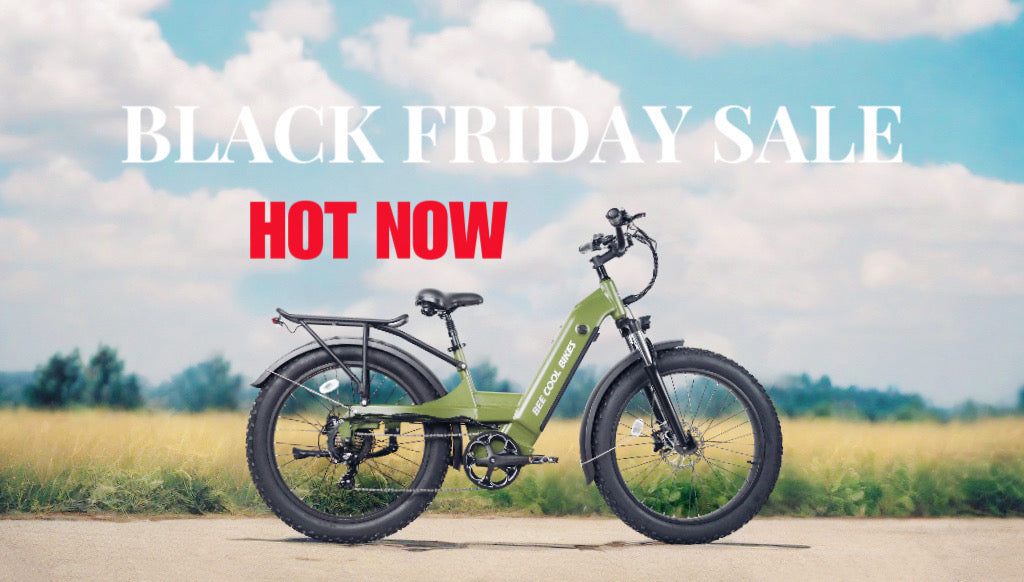 Black Friday is just around the corner, and BeeCool Bikes has exciting promotions in store for all e-bike enthusiasts. You don't need to wait any more as Black Friday is right here at BeeCool Bikes. Whether you're looking for more accessories or cash discounts, BeeCool Bikes has got you covered. Today we will talk about the details of BeeCool Bikes' Black Friday Mega Sale, helping you make informed choices during this special shopping season.



Choose Accessories and Enjoy Generous Gifts
If you're interested in accessories, BeeCool Bikes offers a wide range of complimentary gifts. Depending on the e-bike model you choose, you can receive different gift packages. The Bee Adventurer/Explorer/Pathfinder series comes with a complimentary trailer and battery, while the Bee Challenger/Rambler series includes a trailer and rear basket. These practical accessories not only enhance your riding experience but also save you money on your purchase.

Moreover, selecting a black-colored model will earn you an extra $100 discount. This additional discount can be used to grab even more accessories, allowing you to customize your e-bike to perfection.

Cash Discounts for More Affordability
If you prefer cash discounts, BeeCool Bikes has various options for you. Throughout the Black Friday period, regardless of your chosen model, you can enjoy significant discounts.

Opting for the e-bike option without freebies grants you an additional $200 cash discount. Choosing a black-colored model adds an extra $100 discount on top of the existing savings. Selecting the no-freebies option piles on another $200 in savings, meaning black models can help you save an additional $300.

Furthermore, BeeCool Bikes is running the "2BIKES100OFF" promotion. Purchasing two models with this offer lets you save an additional $100. When combined with the black model discount, you'll achieve the best cash savings.

Engage in BeeCool's Additional Events
In addition to the aforementioned promotions, BeeCool Bikes presents other exciting events to enrich your shopping experience.

Firstly, simply purchasing any of our e-bikes gives you a chance to enter our monthly free bike giveaway. In October, you have the opportunity to win the stylish new Aurora Bee Pathfinder model.

Secondly, participate in our Bee Hive Program by recommending your friends or family to make a purchase using your unique referral link. For every successful referral, you'll receive a $100 cash commission. Your referred friends will also receive a free BeeCool e-bike cover as a bonus.

Lastly, if you desire one Bee Pathfinder model and one Bee Pathfinder Step-thru model, you can join our Bee Pathfinders "Free Mix" Bundle event to obtain the best gifts or cash discounts on these two models.



During BeeCool Bikes' Black Friday Mega Sale, whether you're seeking accessories or cash discounts, you'll find the perfect option for you. Choosing gift packages enhances your riding experience, while cash discounts make your purchase more affordable. Additionally, participating in other events gives you the chance to win free bikes or earn cash commissions.

Whether you're purchasing your first e-bike or teaming up with friends or family, BeeCool Bikes' Black Friday Mega Sale offers the most favorable choices. With its exceptional quality and outstanding service, BeeCool Bikes has earned the trust and praise of countless customers.

Don't miss out on BeeCool Bikes' promotions this Black Friday. Visit BeeCool Bikes and purchase the e-bike of your dreams while enjoying incredible discounts and surprises. Let BeeCool Bikes be your preferred brand as you embark on the e-bike journey and embrace the joy of eco-friendly commuting!