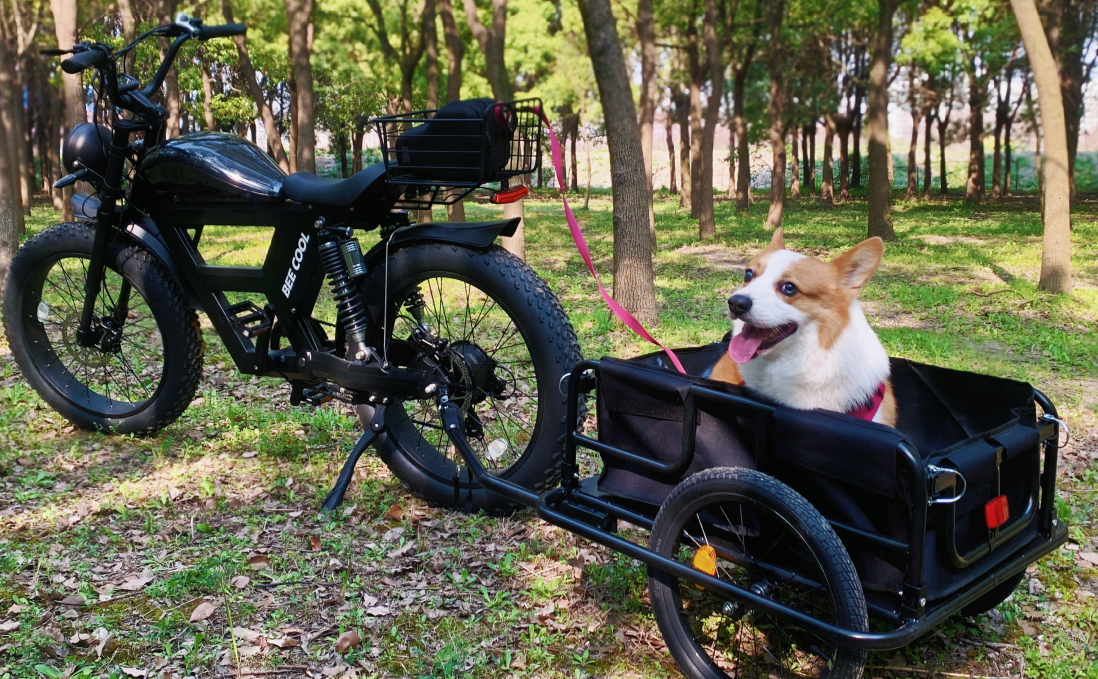 BeeCool offers a free cargo trailer for any e-bike purchase now and the trailer is a very helpful tool for Bee Riders to improve their riding experience. However, when you wait for your trailer to arrive, you should know something about the cargo trailer to better use it! Today, let's share something about our cargo trailer.

An e-bike cargo trailer is a useful accessory for transporting heavy or bulky items on your bicycle. However, it also requires some adjustments to your riding style and safety precautions to avoid accidents. Here are some tips on how to use a bike cargo trailer safely:

- Choose a bike cargo trailer that is compatible with your bike and has the appropriate capacity and features for your needs. For example, some trailers have suspension systems, brakes, or lights that can improve their performance and visibility.

- Attach the trailer securely to your bike according to the manufacturer's instructions. Make sure the hitch is tight and the safety strap is in place. Check the tires, wheels, and frame of the trailer for any damage or loose parts before each ride.

- Load the trailer evenly and securely, distributing the weight as low as possible and close to the axle. Do not overload the trailer or exceed its maximum weight limit. Use straps, bungee cords, or nets to secure the cargo and prevent it from shifting or falling off during the ride.

- Adjust your riding speed and braking distance according to the weight and size of the trailer. Remember that the trailer will add drag and inertia to your bike, making it harder to accelerate and stop. Allow more time and space to slow down and stop safely, especially on downhill or wet roads.

- Be aware of the width and length of the trailer and how it affects your maneuverability and visibility. Avoid narrow or crowded paths, sharp turns, or sudden changes of direction that could cause the trailer to tip over or hit an obstacle. Use a flag, reflectors, or lights to make the trailer more visible to other road users, especially in low-light conditions.

- Practice riding with the trailer in a safe and open area before taking it on public roads or trails. Get familiar with how the trailer affects your balance, steering, and braking. Learn how to handle common situations such as going uphill, downhill, over bumps, or around corners with the trailer.
Now, you know how to use your cargo trailer properly. When your trailer arrives, invite your friends and family for a spring ride which will definitely be a lifetime memory.