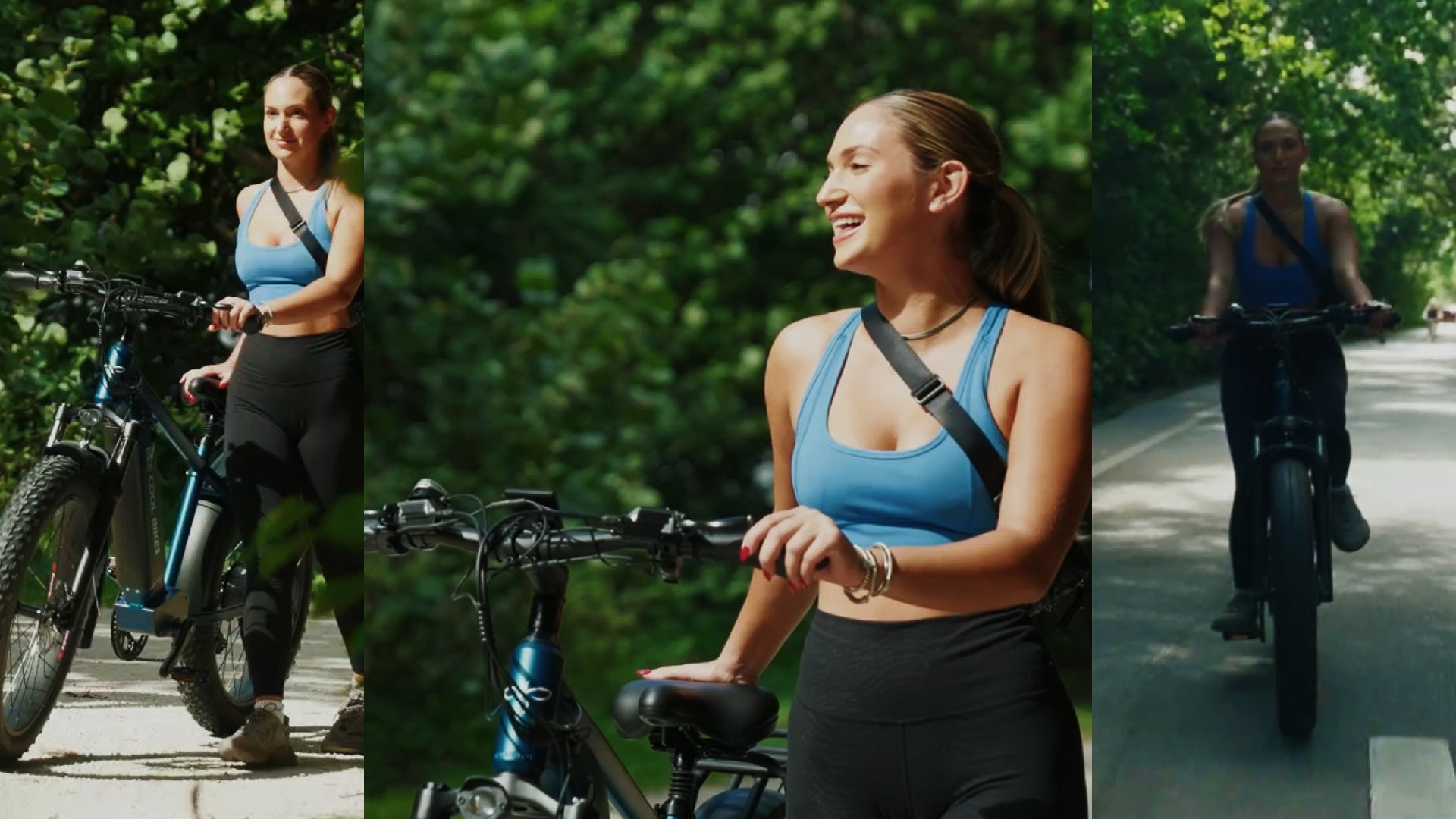 BeeCool has caught the eyes of many fans since its foundation and we are glad to see that so many people love our e-bikes. Today we are going to interview one of our fans and share her daily life with
BeeCool bikes
!
"Today I want to share with you my experience of riding the
Bee Pathfinder
e-bike from BeeCool to work everyday. Yes, you heard me right, I ride an e-bike to work everyday! And no, I'm not crazy, I'm just a staff at a coffee shop who loves to save money and the environment.
Let me introduce myself first. My name is Alisa and I work at the Coffee Corner, a cozy and friendly place where you can get your caffeine fix and some delicious pastries. I've been working there for about a year now and I really enjoy it. I get to meet a lot of interesting people and make them happy with my coffee skills.
But there's one thing that I don't enjoy about my job: the commute. You see, I live about 10 miles away from the coffee shop and the traffic in the morning is horrible. It takes me at least an hour to drive there and another hour to drive back. That's two hours of wasted time, gas and money every day. Not to mention the stress and frustration of dealing with rude drivers, honking horns and red lights.
That's why I decided to switch to an e-bike. I had heard about the Bee Pathfinder from BeeCool, a reliable brand of e-bikes that are affordable, reliable and stylish. They have been in the market for years and I read many reviews about them before. They have a range of models for different needs and preferences, but I chose the Pathfinder because I'm tall and it has a powerful motor, a long-lasting battery and a comfortable seat. Moreover, I love its aurora color! It also has a color display that shows speed, distance, battery level and other useful information. It has a range over 50 miles per charge and I only need to charge it once a week for commute!
I ordered the Bee Pathfinder model online and it arrived in a few days. It was easy to assemble and charge. I was ready to hit the road in no time. The first day I rode it to work, I was amazed by how fast and smooth it was. It can go up to 28 mph and has five levels of pedal assist. I can choose how much effort I want to put in depending on the terrain and my mood. It also has a throttle that lets me zoom without pedaling at all.
The best part is that I can avoid the traffic by using bike lanes and shortcuts. I can also park it anywhere without worrying about parking fees or tickets. It takes me only 30 minutes to get to work and another 30 minutes to get back home. That's an hour of saved time every day! Plus, I get some exercise and fresh air along the way. Especially on weekends, I can exercise with it! Feel kind of cool with it!
I've been riding the Bee Pathfinder for a month now and I love it. It has made my commute more fun and enjoyable. I also feel good about reducing my carbon footprint and saving money on gas and maintenance. The Bee Pathfinder costs only $1699, which is much cheaper than a car or a motorcycle. Most importantly, it is the best e-bike with built-in battery design and great color I could find at this price level. It also comes with a two-year warranty and free shipping.
If you're looking for a new way to commute or just have some fun, I highly recommend the Bee Pathfinder from BeeCool. It's an awesome e-bike that will change your life for the better. Trust me, you won't regret it"!
You can't imagine how glad we are to hear from our fans that they love our e-bikes and we have actually changed their lives for better! We offer highly
cost-effective e-bikes
to let more people ride better and enjoy their lives better that's what we hope to achieve at the very beginning of our foundation. Today we are happy to hear from our fans that we are on the right direction!