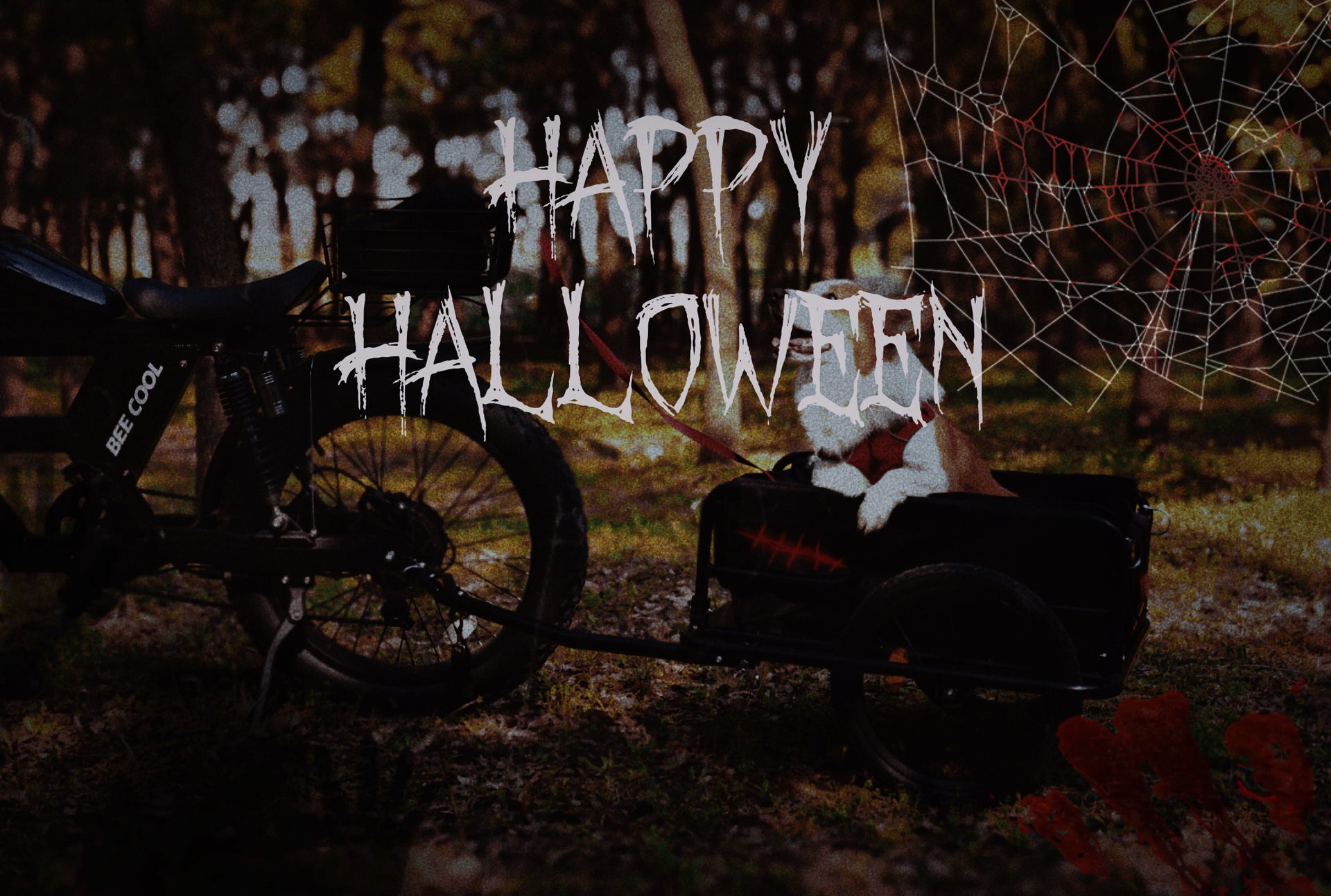 Halloween is the season of spooks, ghouls, and the unknown. While many people plan costume parties and trick-or-treating adventures, have you ever considered an alternative way to celebrate this bewitching holiday? Imagine gliding through the streets, shrouded in darkness, on a sleek and mysterious black eBike. Next, we will delve into how an eBike can add an intriguing twist to your Halloween experience and answer some common questions about eBikes for Halloween.


1. The Allure of a Black eBike for Halloween:
Black has always been associated with mystery and the unknown. Riding a black eBike during Halloween can instantly transform your experience. The subtle hum of the eBike's motor, the eerie silence of the night, and the feeling of gliding through the dark streets create a unique, almost cinematic, ambiance.

2. Costume Compatibility:
One common concern people have is whether they can ride an eBike while wearing their Halloween costume. The good news is that eBikes are quite versatile, and you can ride them in most costumes. Whether you're a witch, a vampire, a superhero, or any other character, eBikes are easy to maneuver in various outfits.

3. Safety and Visibility:
Halloween often involves dimly lit streets and wandering trick-or-treaters. Safety should always be a priority. Many eBikes come equipped with lights and reflective materials, making you more visible in the dark. However, it's a good idea to add some additional reflective tape or lights to your costume for extra visibility. If you own a BeeCool ebike, then you totally don't need to worry about it as all BeeCool models have bright turning signal lights and front & rear lights with reflectors on the seat and front & rear wheels.

4. eBike Range and Halloween Routes:
You might wonder how far an eBike can take you on your Halloween adventure. Most eBikes have a range of 20-50 miles on a single charge, depending on the model. The average RANGE of a BeeCool model is around 60 miles and some models can even reach over 100 miles like the Bee Challenger model. This should be more than sufficient for an evening of Halloween fun. Plan your route and charge your eBike in advance to ensure you have enough power for the entire night.

5. The Electric Advantage:
Traditional bikes can be physically demanding, especially if you have to pedal uphill or over long distances. An eBike eliminates this concern, as you can choose how much assistance you want from the electric motor. This means you can enjoy your Halloween ride without worrying about fatigue.

6. Quieter Than a Broomstick:
While witches typically ride broomsticks, an eBike is a far quieter and more comfortable option. No need to endure the discomfort of a wooden broom handle when you can enjoy a smooth, cushioned ride on an eBike. The near-silent electric motor won't disrupt the eerie silence of the night.

FAQ (Frequently Asked Questions about riding your BeeCool Black ebike for Halloween):

Q1: Can I wear a costume while riding an eBike?
A1: Absolutely! eBikes are designed for comfort and ease of use. Whether you're in a spooky costume or a superhero outfit, you can ride an eBike with ease.

Q2: Are eBikes safe for Halloween night riding?
A2: Yes, eBikes are safe for Halloween, but you should take precautions. Most eBikes come with lights and reflectors, and adding additional visibility features to your costume is a smart choice. With BeeCool ebikes, you don't need to worry about this as we talked about it before!

Q3: How far can I ride on an eBike during Halloween night?
A3: The range of eBikes varies, but many can go 20-50 miles on a single charge. The average RANGE of a BeeCool model is around 60 miles and some models can even reach over 100 miles like the Bee Challenger model. Plan your route accordingly and ensure your eBike is fully charged before your Halloween adventure.

Q4: Is riding an eBike noisier than other modes of transportation?
A4: No, eBikes are relatively quiet. The electric motor produces minimal noise, allowing you to enjoy the spooky silence of Halloween night.

This Halloween, break away from the ordinary and embark on a mysterious journey with a black eBike. BeeCool Bikes now offers great discounts on all its black models, so it's a good chance to get one at a pretty nice price now. Whether you're on the hunt for candy or looking to add an air of enchantment to your festivities, an eBike can help you do it in style. So, don your costume, charge up your eBike, and get ready for a Halloween adventure like no other. Happy Halloween!